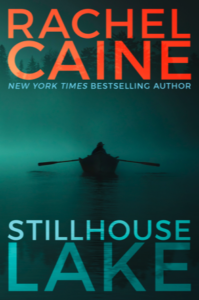 I discovered an excellent new (to me) writer a couple of weeks ago — though I have to admit her name is so familiar, I keep thinking we must have met somewhere in the labyrinth of the writer's world: a conference, workshop, or publisher event.
Anyway, it doesn't matter.
Somehow, and I don't remember that either, a copy of Stillhouse Lake showed up on my eReader. No, I don't think it was magic; it was probably a promotion of some kind where I downloaded the book and then promptly forgot about it. Well . . . for some reason, I started reading it despite the fact I was already in the middle of two books and an audio book. Let me tell you, I was hooked from the very beginning and the two other books, that were good, got put on hold until I finished Stillhouse Lake.
This is such a well written, tightly plotted book with compelling characters. It really is one of the best suspense novels I've read this year. I highly recommend it. Oh, and I've already preordered the second book in the series (Killman Creek) which comes out on December 14th.  I can't wait!
So, after you read it, let me know what you think in the comments section below.
P.S

.  I'm pretty sure both books are only available through Amazon.  Here is the link, or click on the cover or text links above.