As readers, I suspect you've often experienced someone asking you who your favorite author is. I mean, how do you answer that question? I have dozens of favorite authors, and I suspect you do as well. Maybe even dozens by genre. How can you compare your favorite romance authors to your favorite sci/fi or horror authors? You can't. Plus, your favorites change over time when you discover that new, or just new to you author, or an old-favorite just doesn't appeal any more. So that's why I often post or write about "one of my favorites", because, there is just no picking one.
So, my review this month is again about one of my all-time favorites: Robert McCammon. He has to be in my top five—if I was bold or crazy enough to claim I could even name a list of my top five authors. He has all three elements that combine to make me love his books. First, he's a great storyteller, with interesting plots that hold up and pull you through his books. Second, characters . . . characters . . . characters—he does unique and interesting and compelling. And third, he's simply an excellent writer. Should I repeat that? The man can write.
With the above in mind, I'm recommending Robert McCammon's Mathew Corbet series. They are billed as historical thrillers, but they also have a touch of horror in them. (Did I mention I LOVE these books?) There are currently six of them, and I've read the first five . . . with the sixth currently on my eReader. Although, like a lot of readers, I love series, I also usually get tired of them by the third or fourth, but I haven't tired of these. Each book is a standalone mystery / thriller story, but over the course of the book there is another longer theme and story running through them.
Check out the first, Speaks The Nightbird, and let me know what you think in the comment section below.
---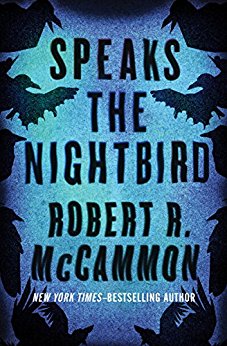 SPEAKS THE NIGHTBIRD by Robert McCammon
Mathew Corbett: Book One
It's 1699 in the coastal settlement of Fount Royal in the Carolinas when Rachel Howarth is sentenced to be hanged as a witch. She's been accused of murder, deviltry, and blasphemous sexual congress, and the beleaguered, God-fearing colonial village wants her dead. But Matthew Corbett, young clerk to the traveling magistrate summoned to Fount Royal to weigh the accusations, soon finds himself persuaded in favor of the beguiling young widow.
Struck first by her beauty, Matthew believes Rachel to be too dignified, courageous, and intelligent for such obscene charges. The testimony against her is fanatical and unreliable. Clues to the crimes seem too convenient and contrived. A number of her accusers appear to gain by her execution. And, if Rachel is a witch, why hasn't she used her powers to fly away from the gaol on the wings of a nightbird?
God and Satan are indeed at war. Something really is happening in the newly established settlement—of that Corbett is certain. As his investigation draws him into the darkness of a town gone mad, and deeper into its many secrets, Corbett realizes that time is running out for him, for Rachel, and for the hope that good could possibly win out over evil in Fount Royal.
---
Click on the cover images or links for more information about each title.
The Queen of Bedlam (Book #2)
Mister Slaughter (Book #3)
Providence Rider (Book #4)
The River of Souls (Book #5)
Freedom of the Mask (Book #6)
Enjoy the books! Pat Lewin
---
---